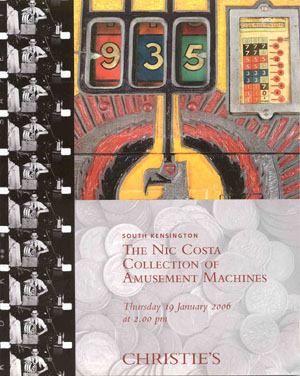 The Nic Costa Collection Auction Catalog
Nic Costa is best known for his great book Automatic Pleasures, The History of the Coin Machine. So when he decided to sell a part of his collection of coin operated machines, the world took notice. Christie's took on the task of running the sale in January of 2006 and this is the catalog that went to auction participants and other interested parties. It is a wonderful collection of photos and descriptions of the machines with many not found in other books.

Soft cover, 44 pages
8 1/2" by 11" format
No ISBN No.

This book is out of print (very limited availability).

BK241 $95.00
We're sorry, this item is sold out.