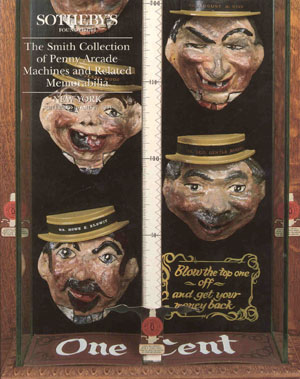 The Dr. Smith Collection Auction Catalog
The auction of the Dr. Smith collection by Sotheby's back in 1994 turned out to be a benchmark for the values of a number of different types of collectibles, but most importantly the coin-op machines that were included. All of the different types were represented and in many cases new high water marks for prices were set. Some of the pieces have since changed hands and the ability of being able to state that a piece was once part of the Dr. Smith collection continues to add to the overall value and desirability. A fantastic reference book with many machines photographed, a number in color, that have not been recorded in any other book. Includes a copy of the prices realized.

Soft cover, 148 pages
8 1/2" by 11" format
No ISBN No.

This book is out of print (very limited availability).

BK237 $95.00
We're sorry, this item is sold out.